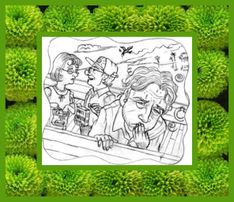 Car sickness, Sea Sickness, Motion Sickness, Morning Sickness.
Emmett Technique has these amazing balance moves. I use them all the time in my clinic, but only recently did I really have the chance to see them in action with vomiting from car/bus sickness. I went on a school excursion with my middle daughter, we were to go up to Kuranda on the scenic train and then come back down the range on the school bus. Sounds like a perfectly simple day
WELL, what I didn't mention was the special lunch pre-prepared for the children that they all ate when they got to the top of the hill. A massive sandwich, chocolate bar, fruit and a juice. As soon as were were finished lunch we were on the bus coming back down the range again.
I was on high alert, half excited, lol, to see if one of the kids was going to get sick so I could really try out the Emmett balance moves. It happened, one of the kids started being sick. I raced down to the poor kid, made the moves and the vomiting stopped. AMAZING!!!!!
I use it on my kids when driving to Port Douglas too. I am not sure what it is with that drive but one of mine always ends up a bit sick, we haven't vomited in the car since I have learnt the moves. They know to let me know straight away and I hop over the back and quickly make the moves and the sickness goes away.
It has been know to work on boats when you have sea sickness & can assist in pregnancy with morning sickness. I use these moves in my clinic all the time and they are also taught in my Emm-Tech classes for the general public.
Thanks for reading
Rusty