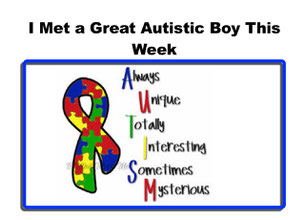 I met a very handsome school aged Autistic boy this week, he was limping and couldn't tell anyone where or why it hurt :(
The great thing about the Emmett Technique in a situation like this is that Ross Emmett teaches us to watch how the body moves, to take note of where the body sits when a person is still & then to form a plan of what Emmett Moves you are going to make from there.
Reading bodies in my practice comes in very handy for little babies who can't talk, but this beautiful Autistic boy helped me open my eyes to a whole new level awe of the things I have been taught by Ross Emmett . I watched this School aged boy move, I watched how he sat, I used Emmett's chameleon approach and I mimicked what he did. I could see what may have been creating his pain without him telling me I just had to hope that it was enough to take some of the pain away. I spent 15 minutes watching and making moves and asked them to come back again in a few days. After they left I sat on the floor in my office and cried at the fact that I made a change in a boys pain who couldn't tell anyone what was wrong.
His mum told me they went home and he started jumping on the trampoline again that afternoon He still had a little limp so I watched and chose my moves again. The difference I noticed this time though was when I chose the right move he stopped still for me like he was telling me that was it, I got the goosebumps. He taught me something
Learning Emmett has made me feel like I have been given THE CHEAT SHEET to the most awesome Human Anatomy Xbox Game on the planet. Thanks Ross, I saw nothing till you opened my eyes.
Thanks for reading
Rusty