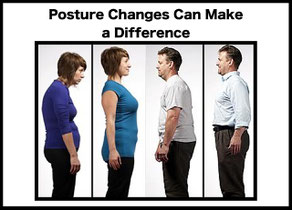 I met a beautiful mother of two a little while back who was as fit as a fiddle and a great looker. I would personally kill to look that good after 2 children. She came to me on the advise of a friend and was not sure what the Emmett Technique was going to do for her.
When looking at her you could see that her shoulders were turned in at the front that it gave her the appearance of being perhaps a little shy & she looked very rounded across her back. I couldn't wait to get my hands on her and see how much of a change we could make to her natural posture.
OMG!!!!!! I was a little in awe. I wouldn't have believe it would be possible, but when she stood up from the massage table she was even more beautiful. The change with her shoulders naturally back and down made her look like she owned the world. I know it sounds crazy but I went from believing she was perhaps shy & gorgeous to look at her, to then think she looked gorgeous & unstoppable. All with posture change.
I keep thinking of the saying you can't read a book by the cover Posture can change our covers to make us appear differently to what we are on the inside. Emmett has shown me how to re-cover my book, I now have great posture and appear confident (APPEAR :)). Now I love re-covering everyone else's books that I can get my hands on.
The Emmett Technique is incredible.
Thanks for reading
Rusty