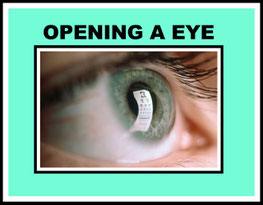 I am Blessed with a remarkable young boy client who has moved to Cairns. He is a previous client of Ross Emmett. Ross Emmett & his technique did remarkable things for this child when he lived in Townsville from birth. In the beginning when he first came to see me I was so scared of not cutting the mustard compared to such an incredible therapist.
I have been treating him for over a year now and even yesterday when I saw him I was scared of not being able to help him as much as Ross. This child's eye closes over time and Ross used to open it up again in one session. He is due to see his eye specialist again this week and his mum wanted to see if I could open it before the appointment as they were talking about ways to fix him perhaps surgically.
He was still for most of the session & I managed to make all the Emmett Eye Moves perfectly. I was looking at his mum and asked how did we go & she said I watched it open again. I can not begin to tell you how that made me feel. There was relief, happiness, awe, love, excitement. I am so blessed.
It also shows that Ross Emmett's Technique really is very teachable. He & his teachers taught me to be like him, to see and feel what he does. He & they taught me do an incredible technique well & it make me so happy.
Thanks for Reading
Rusty