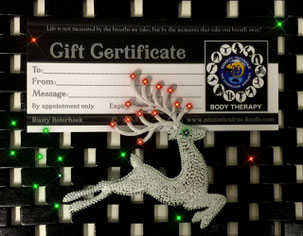 THE THING YOU MAY NOT KNOWN ABOUT GIVING A GIFT CERTIFICATE FOR CHRISTMAS
I have purchased plenty of Gift Vouchers over the years for friends and family, my only thought being how much it would please the person I was buying it for.
One new revelation since owning my own business is that when a person comes into your establishment and asks to purchase a Gift Certificate for a friend or family member to come in and see you it is such a great honour. What a blessing to have someone think you are worthy of being a gift.
Merry Christmas
Rusty xxooxxoxx