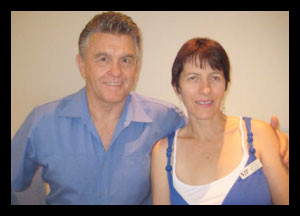 I have heard Ross Talk about Lee Mules so many times in Class and how Emmett Therapy Helped her after contracting Cryptoccocal Meningitis. I decided to look her up on the Internet Today and see what I could find. WHAT AN AWESOME LADY!!!!!! Here is what I found:
Emm-Chat Issue 9, Written by Lee Mules March 2011
Another year gone and now time to reflect on my progress. It has been a good year for progress and improvement. I have continued with my Emmett therapy on a regular basis and my ears have steadily improved. In May I travelled to Brisbane to see a specialist Cochlear Implant Centre and Doctor with the hope that I may be able to have an implant. We had two days of testing booked plus an appointment with the specialist Dr at the Centre. The first day consisted of an MRI and various other tests including an electrode test for nerve activity. After the test for nerve activity the Specialist came to see me and told me that it was no point continuing with the testing as they could not find any definite indication of nerve activity and a CI requires nerve activity to work. This was very disappointing of course, however I still had an appointment with the Dr the next day.
The Dr showed Mum the MRI and explained how the nerves on the right were totally obscured by scar tissue and on the left the nerve had a line of scar tissue going across it. The Dr was quite amazed by the amount of hearing I had on the left and the fact that the right was also testing as some hearing. He said I was a unique and complex case, as he had never seen this type of recovery in someone with my extensive damage. He asked if we were doing something different so we explained Emmett Therapy. His comment was to just keep doing what you are doing. The Dr told us there was one other test I could have which he thought was worth having but don't get your hopes up. This test is an electronic test done in a small operation and will give an accurate nerve activity reading. Let's do it! In August, just before I had the test, my hearing was tested again and my right ear had a fifteen-point improvement, which was very exciting. Thank you Emmett Therapy!
In September it was back to Brisbane for the electronic test. The results stunned the specialists. I had a rare amount of hearing nerve activity in BOTH ears. WOW. That CI was still a possibility but I needed some further testing. Late October, it was back to Brisbane for more tests, the results of which were good and again surprised all the experts. After testing the Dr saw me and explained that they could only locate two records in New Zealand and Australia of a Cryptoccal Meningitis patient having a CI. Of these one had environmental noise only, no speech. The other had, for the last year, vibration only and was just starting to get some environmental sound. This meant no one knew how things would turn out. However the Dr said he thought there was a good chance I would experience some improvement.
This was great news, but I still had to be approved by his board of specialists. On the tenth of November the Dr's office rang to say the CI was approved and I would have the implant on the twenty fifth. Yahoo! Thank you Emmett Therapy. Everything went ahead as scheduled and on the sixth of December I had switch on. This was a very exciting day as no one had any idea what I would get. On this first day they program and switch on half of the electrodes on the implant. The mapping, as it is called, is done using chime like sounds and the audiologist kept asking if I was hearing sound or getting vibration. I had to keep assuring her it was sound. Switch on. Lots of noise and chimes for a while and as that started to settle she tested my hearing with the CI. She said the days of the week and asked if I heard anything. I replied that I had heard them although not clearly, it was definite speech. Total amazement. She couldn't believe it and I was over the moon.
I am still in the early stages and have two more sessions in this round. Every time I see the clinic I show significant improvement and amaze the specialists with my progress. It will take a long time and a lot of training to achieve my goal of conversation but I believe I can. And they said I would never hear again let alone have a successful Cochlear Implant. I strongly believe that the recovery in my hearing nerves is mostly due to Ross Emmett and his wonderful therapy. What next? Eyes? Time for us to concentrate on my vision and if I get the same level of recovery in my eyes as ears this will be wonderful. My goal is to walk the Inca Indian Trail in Mexico for my fiftieth birthday. We've got four years Ross! Lee Mules, Tully QLD
I found this above Story at the link below: http://www.rossemmett.com.au/portals/2/newsletters/emm-chat_issue_9.pdf
I also found a more recent story written by Lee Mules. Her Whole Story WOW!!!!!!!!!!!! What an incredible lady she is and what wonderful friends and family she has.
My name is Lee Scott (Mules), prior to September 2008 my life was pretty routine. I was a manager in tourism in Cairns, fit, healthy with no impairments. In September2008 I contracted a devastating and potentially deadly disease, Cryptoccocal Meningitis. I was not diagnosed until I was critically ill. I was placed immediately into the Intensive Care Unit (ICU). The battle was on to save my life. The doctors warned my family to prepare for the worst. 25 per cent of people who contract Cryptococcal Meningitis do not survive, that's 1 in 4 who do not survive. But I was made of stronger stuff than they gave me credit for. On about the 5th day, I do not actually remember this, I regained consciousness and said "Whew, that was a bit tough but I'll be right now", ever the optimist. It wasn't that easy. I spent three and a half weeks in ICU. During that time I was medivaced to Townsville as I had immense pressure in my brain and required a neurosurgeon, Cairns did not have one. During the surgery to release the pressure on my brain I suffered 2 cardiac arrests, due to a severe potassium imbalance caused by the strong drugs I was being given to save my life. But obviously I survived.
My first memory is approximately the three week mark. I was still in ICU, I woke up, everything was pitch black and dead silent except for a dull roar in my ears. My mother took my hand. She wrote on it "You can't hear or see, be positive". I replied "Positive attitude only". A few days later when I was moved to a ward, I took stock of the damage. It was severe. I had lost my sight, my hearing, my sense of smell (which has since returned), I had severe nerve damage to my feet, legs, hips and left hand. I couldn't lift my right leg off the bed at all and my left only about a centimetre; they had an awful numb like feeling. I could move my toes although I couldn't feel the movement. I had too much pain in my neck and head to move it. Basically the only thing I could move was my arms. So what did I say, well of course "Where's the physio?" After a bit of pester power a physio came, did a quick examination and disappeared into oblivion. I thought about this for a little while and decided "This disease may have got my eyes and ears, but I will be blowed if it's going to get my legs". I worked out I could manoeuvre myself so that I could reach the bottom hem of those wonderfully flattering pyjamas that you wear in hospital. If I pulled hard enough on them I could pull my leg up and get my hands behind it. I could then force my legs to exercise. I had Velcro boots strapped on my feet and up my legs to prevent muscle contraction, a catheter, drips and so on, but I was absolutely determined.
Some weeks later I was transferred back to Cairns. I knew the exercise routine was working. I could now lift my right leg just a little and my left a little higher. A friend brought me some exercise ribbons, as I was still unable to sit or be on the slightest angle due to the pain in my neck and head, I would flick these until I got them around my foot and pull my leg up. The old gym junkie came out in me and I devised a series of exercises for legs and arms to build my strength. I still had a number of hurdles to overcome, but about two weeks before Christmas I was transferred to rehabilitation, walking with the aid of a walker, or pushed in a wheel chair.
It was a Friday afternoon, my mother who had been by my side all through this ordeal, had gone home to Tully for the weekend. A friend came to visit me, she said "How about we have a BBQ on the Esplanade on Sunday afternoon. Celebrate you being transferred to rehab. I will invite some of our friends and your Mum" I thought this sounded good. On Sunday afternoon my mother put me in the wheelchair and we went to the Esplanade. I was sitting at the table in my wheel chair, my mother took my hand and wrote on it, all communication was by writing on my hand, "Your friends want you to talk". Well now, talking is something I am good at, I certainly have not lost that ability. I said "I have just spent my first weekend in rehab and I have done a lot of thinking. It is time to start getting the old me back. I am going to get Mum to make an appointment with my hairdresser for a cut and colour ( this may not be important to many people, but it was to me as I always had my hair styled regularly and after all this time in hospital I knew it wasn't looking good). From tomorrow there will be no more days spent in bed. I will be getting dressed in proper clothes and even if I spend most of the day sitting in a chair, I will be out of bed. I am going to put my jewellery back on and get the old me back. The jewellery didn't quite work as when I put all my rings back on they all promptly fell off. I had lost 16kg and was very thin.
But on Monday when the physio came for our first session, I was up, dressed and ready. He took me to the gym, in my wheelchair, where we did a few things. Then he put me on an exercise bike. Now I hate exercise bikes, I have always hated them even in my gym junkie days. I called this one "The instrument of Torture". He set me at a pace and indicated for me to do 2 minutes. It was the toughest, most excruciating hard two minutes I have put in. At the end he was thrilled with my effort, I was disgusted. "How could 2 minutes on an exercise bike nearly kill me? How could I be so unfit, in such poor condition?" He offered me a set of free standing pedals, which he put under the edge of my bed where I could use my feet to get them out. I am sure many a nurse kicked their shins on them and cursed them, but every spare minute I had my feet in them pedalling, determined to walk. A few days before Christmas a friend was visiting me in the rehab ward. She helped me into my wheelchair and took me to a little courtyard near my room. We were sitting there and she wrote on my hand "You want to walk don't you?" "Yes" I said. She got me to my feet and we started doing a very slow shuffle around the courtyard. Some more friends arrived. Now my friends know me pretty well, they know I am a real coffee shop girl. So they asked "How would you like a coffee at the café?" "I would kill for a cappuccino" I said. "Great, and you're walking" was their reply. They got one each side of me and with a lot of support I made the slow shuffle to the café, had my cappuccino with friends, and did the slow shuffle back with one each side supporting me. After they had left I called the nurse and said "That wheelchair with my name on it, you can take my name off it and have it back. I don't need it anymore." In the morning when physio came and asked where my wheelchair was, I said "I gave it back, I don't need it, I'm walking.
" On the 30th of January 2009, I was discharged from hospital, four and a half months after I had been admitted. I left without sight or sound and doing a slow and very heavily supported shuffle. But what I did have was a very positive and determined attitude. A determination to achieve my goals – regain my social life, regain my independence, re-enter the workforce and to live an enjoyable and quality life. On leaving hospital it was obvious that I could not live independently at this time. My home was packed up and good homes found for my dogs. I went to live with my mother and step-father at Tully. Just outside of Tully actually. Tully is best known for its sugarcane, bananas and being the wettest town in Australia. Being regional Queensland there were few facilities or services that could assist me. We were prepared to travel but even Cairns and Townsville had very little to offer. Tully had no suitable physio and North Queensland only had one blind service organisation and they did not have an Occupational Therapist for the blind. It was up to us, my wonderfully supportive mother and I to overcome the challenges and achieve my goals. I realised the first thing I needed was to regain my health, fitness and strength. As the mainstream medical system in regional Qld could provide little further assistance we looked at Natural Therapies.
With my mother's research we found Emmett Therapy, and Ross Emmett was based in Townsville. We started the weekly, two and a half hour each way, trip to Townsville. With Ross's work my body started to make a good recovery. However I still needed to build strength and fitness, I purchased a treadmill and started walking. I quickly built up to 5klm a day and then gradually to 10klm a day. The Emmett Therapy and exercise was starting to pay off. My balance started to improve, and my strength built up. I was now able to stand although a little wobbly, without holding onto something or someone. The Emmett Therapy was also showing results on my hearing, I was starting to hear some environmental noises with my left ear. The improvements were wonderful but I started to feel my world was isolated and narrow. All communication was by writing on my hand, I could not watch TV, hear the radio, read a newspaper or a book.
Time to learn Braille. But we live in Tully, there is no adult Braille learning facility outside of Brisbane as far as I know and there is certainly none in North Queensland. My mother went on the search again. She found Qld Braille Writers Association at Braille House in Brisbane, they offered Braille by correspondence. I signed up. I hired a tutor, a lovely retired local lady. She had never had anything to do with Braille but had been a teacher at one point, she jumped at the challenge. With her help and a lot of determination and hard work I became a Braille reader after 14 months. It started to open my world back up. I purchased a special Braille computer that converts the written word to Braille. I read the Braille on a small strip on the computer where electric pins pop up and down to form the Braille. The computer has a rather long name so I christened it "Basil". This sounded like a rather good name for a frustrating techno geek. And I can assure you that self-teaching how to use Basil was very, very frustrating. But it is amazing technology. I now had Microsoft Word, Daily Planner, address book, Book reader and very importantly email and internet.
They are a little limited compared to a regular computer but I was now in direct contact with friends, family and services. I could read the news and surf the net. Around this time two other important changes happened. North Qld got a permanent Orientation and Mobility trainer. A blind organisation had a cane trainer. I could now receive about 4 hours a month training on how to use a white cane. The second thing is we came into contact with a lady who knew the systems and how to navigate them. She was working for an organisation that assisted older carers and their families. I will term her a navigator for this story. She was horrified to discover that the only respite we had been able to access was four hours a week. This meant my parents had no opportunities to have a break without arranging for me to go to a friend's place for a few days.
We had been unable to access or find any other funding or assistance of any sort. Our navigator set about finding funding and putting us in contact with organisations that could provide the respite we needed. This made a huge difference for my parents. As our navigator got to know me better and we talked about my goal of independence she saw how determined and positive I was. We started to look for funding to assist me to achieve these goals. She located a fund that assisted people to become independent by providing funding for safety, technology, assistive aids and support workers. I applied. The fund was granted after some time. I had a plan and we set it into action. I moved to Brisbane to enable me access to training, services and support. One of my family members had purchased a house with a Granny flat behind it. This was a good starting place. I proceeded to rent it from him. Now with the assistance of Vision Australia I was able to work out what equipment and technology I needed. I could now also receive training in the use of this equipment. Also to assist my mobility I now received 3 hours a week in cane training.
I know there is so much more needed in the way of service for people challenged like myself, but compared to regional Qld this was wonderful. I have moved on from that little Granny flat to rent my own flat. I do all my own cooking and often entertain friends. I self-manage my fund and employ my own support people from the fund. I have come a long way since shuffling out of hospital. I now use an iPhone for text, reading the news and many other things. It connects to a Braille reader. I use a laptop with a program called JAWS for all the usual things such as surfing the net, emails and documents such as this. I do my own internet banking and bill payment. I have been co-editor of a newsletter for a deaf/blind group for a year. I do motivational speaking and workshops for organisations and groups. I am achieving my goals – regaining my social life, tick; living independently, tick; living an enjoyable and quality lifestyle, tick. I hope to do a lot more motivational work and re-enter the workforce. I am very determined to be a good author of my life book.
Positive Attitude Only
Lee is available for motivational speaking Find her at the link below: http://www.griffith.edu.au/__data/assets/pdf_file/0005/667049/Lee-Mules.pdf