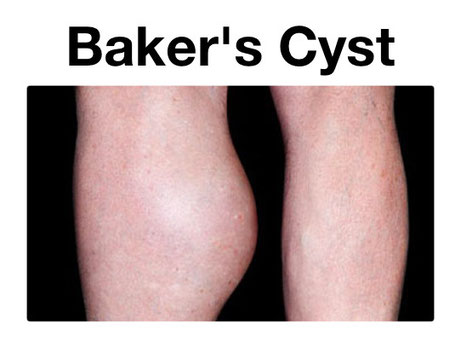 There is nothing like experiencing things for the first time and last week I had my first RUPTURED BAKER'S CYST client. The most stunning air hostess with one big swollen leg and one petite slender one that she had been hobbling around on for over a week.
Apparently when a Bakers Cyst ruptures the lower leg swells, so originally I thought of just releasing the gastrocnemius to get the fluid up and away, but on further investigation we both realised her whole leg above the knee was really swollen too.
We had a chat and decided we would do a full lymphatic drainage and throw in a few other moves along the way. I could see by the end of the treatment that the ankle looked a little smaller but there was no huge change. We booked a follow up the following week and crossed our fingers for the rapid return of her 2 slender legs again.
She came back for the follow up this week and said that she went to bed the night of our treatment and when she woke up the fluid was nearly all gone and she felt terrific. She said she couldn't believe it. The poor lady had to witness my happy dance and be subjected to an excited hug. I love my job.
Thanks for reading
Rusty
I found the information about what a Baker's Cyst is in the story below at:
http://www.nlm.nih.gov/medlineplus/ency/article/001222.htm
Baker's cyst is a buildup of joint fluid (synovial fluid) that forms a cyst behind the knee.