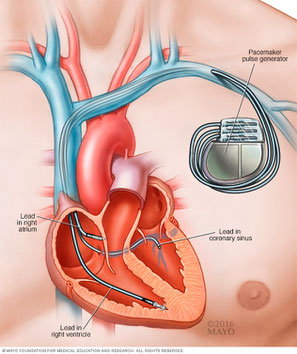 I had the most excellent experience over this last couple of weeks with a man and his pacemaker. He'd had a sore neck for the most part of the 2 years he had had his pacemaker in for. His shoulder was so turned in for protection of the pacemaker it was incredible.
I knew I had to release the pectoralis minor muscle but the pesky little pacemaker & wires were everywhere I wished I could go and where I wanted to make my moves. Ross Emmett always says that the when we turn a light on, the light may be above your head but you have to walk over to the other side of the room to turn it on. So on that principle I worked out how to release the pectoralis another way using a different muscle group. I love Emmett!
I I treated the rest of the shoulder and neck and I was so close, but not quite there. Did you know that the wires going from the pacemaker to the heart are connected with like barbed fishing hooks that go into the heart to fix them in, wow very cool and a little ew!!! Based on this handy info I figured what the heck, how about I try a gently holding move through the pacemaker to the back of the shoulder. The move is so gentle that the worst thing that could happen was nothing.
The whole shoulder adjusted back & dropped, the neck released and all the pain left instantly. So very amazingly, incredible, I actually squealed in delight and did a happy dance. Very unprofessional, but occasionally necessary.
I am pleased to report he came back a week later for a follow up, shoulders still back & still with no pain at all. Emmett is Wonderful!!!!!!