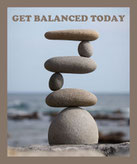 I believe we build most muscle in our bodies based on we do in our every day lives. For example: I myself stand most of the day in my clinic & I exercise most mornings standing too, so my muscles are strongest and best functioning while I stick in my routine.
What I have personally found is that I throw something different into my day that is not part of the routine my body is accustomed to, like the occassional gardening, a different kind of exercise or try have a day on the couch, my body gives me all kinds of curry. Apparently my body appreciates change as much as I do :)
Does this happen to you?
I love resetting peoples bodies with the Emmett Technique. We can reset your body for what ever lifestyle you choose (with in reason, lol) Feeling good again is incredible, make an appointment today :)