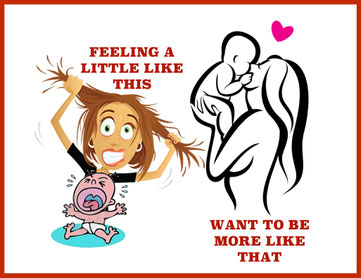 Here are just a few symptoms that your baby may have some discomfort.
* When you put them in their car seat, do they stiffen up to try not go in, cry every time? Could be a sore neck or back.
* When you put them down in the cot, do they start to cry, wiggle and move around a lot? Could be a sore back.
* When laying down anywhere is the head always only sitting one side? Could be a sore neck.
* When you are breastfeeding does baby only breastfeeds comfortably and easily one side? Could be a sore neck.
* When breastfeeding does baby have trouble latching? Could be a sore jaw, perhaps sinus, sore neck.
* Does baby always feel stiff and rigid when you holding them? They may be growing and need a gentle tune-up to relax the muscles again.  
*Does your baby have trouble with wind, reflux? :) We have many options to assist here too!  
The Emmett Technique is very gentle and incredible at bringing yourself and your baby back into relaxed harmony again. Babies can't tell you when they are in pain, all they have is their tears and their unsettledness to let you know something is not quite right. Emmett technicians are trained to watch your baby move, notice what is bothering them and in most cases know how to fix the problem with little to no discomfort to your baby or you.  
SPECIAL!!!
Mum and Baby Sessions
30-minute session for Mum 15-minute session for baby
(*TIP* Make sure you have someone nearby to take your baby for a stroll while you enjoy your treatment) $80
Baby Sessions up to 12months
20-minute Session
$30  
12months-16 years
30-minutes
$50